"Lightning copyright customizer" is a plugin that can freely change the copyright text is displayed in the footer.
You can delete the default copyright or changed it to any text. It is also possible to insert HTML tags.

Using this plugin, such as your company or shop or site name can be easily changed to your own copyright.
If such as programming and HTML you don't know how to remove, or remove the appropriate point in time of version up if is such you feel troublesome, It is a convenient plugin!
Price
Selling price:US$ 10
※This plugin is only for goods to customize the notation of the footer. "Lightning" theme's operation guarantee and support does not include.
Note
License of Lightning theme is GPL. If you know how to customize, that you want to customize, license is no problem.
You it can be used multiple site 1 license.
How to use
Purchased from the sales site of the above-mentioned link, get the plugin data.
Next, Go to the screen "Dashboard"→"plugins"→"Add New", You click the "Upload" of the title lie down.
After going to the "Add Plugins" screen, the "Select files" button Click the "lightning_copyright_customizer.zip" file to upload and install the.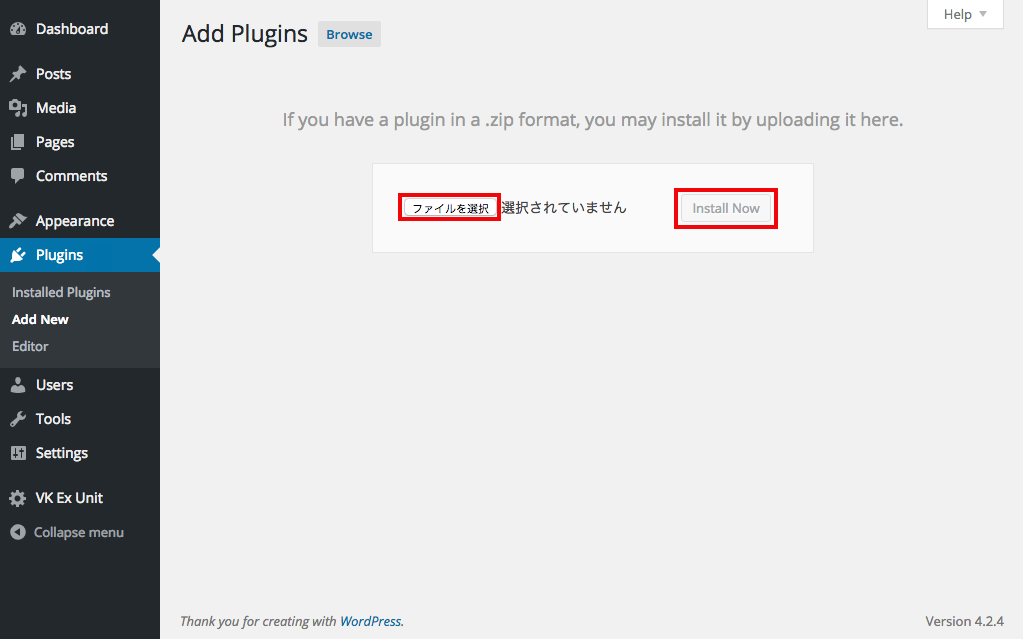 To activate the plugin by clicking on the "Active Plugin" below the message of "Plugin installed successfully" If the installation was successful.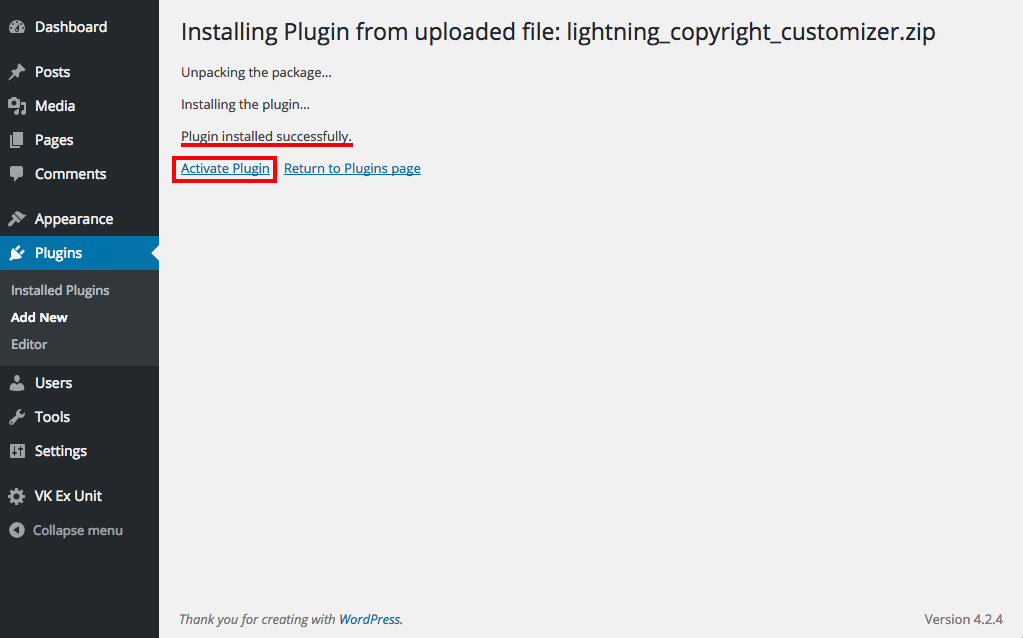 When the activation is finished it will move to the "Installed plugin" screen.
Look for the item of the "Lightning Copyright Customizer" plugin from within this screen.
If the plugin is activated, the plugin name to the bottom of "setting" appears.
Clicking on this "setting" goes to the setting screen (customizer).

This "customizer screen" left side, the item of "Lightning Copyright Custom" is added to the bottom.
When you click this item, an input area is indicated.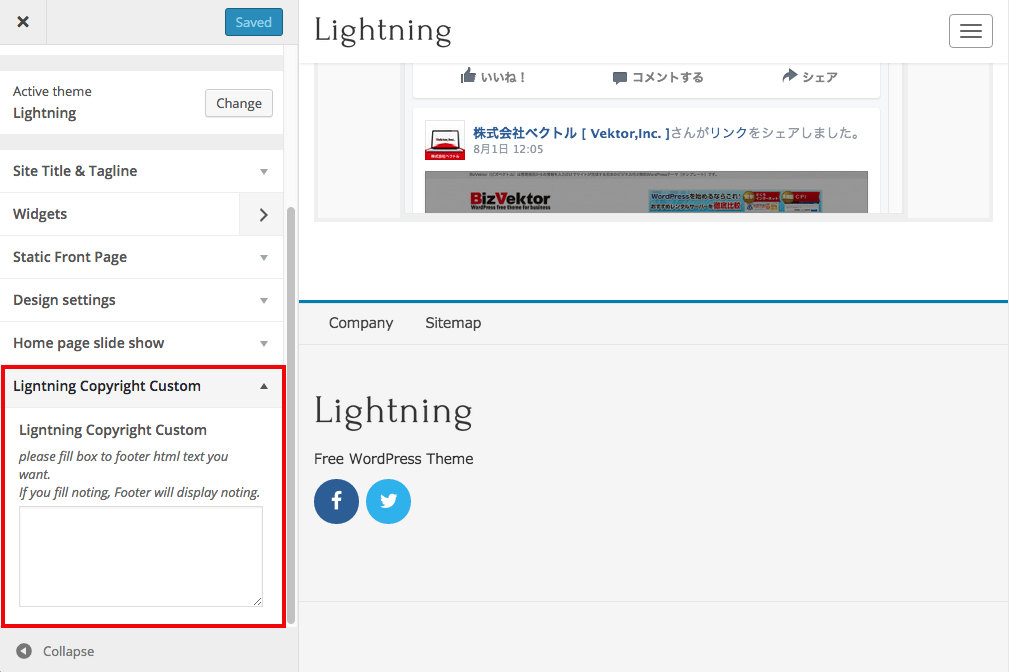 To this input area, enter the text or HTML that you want to display.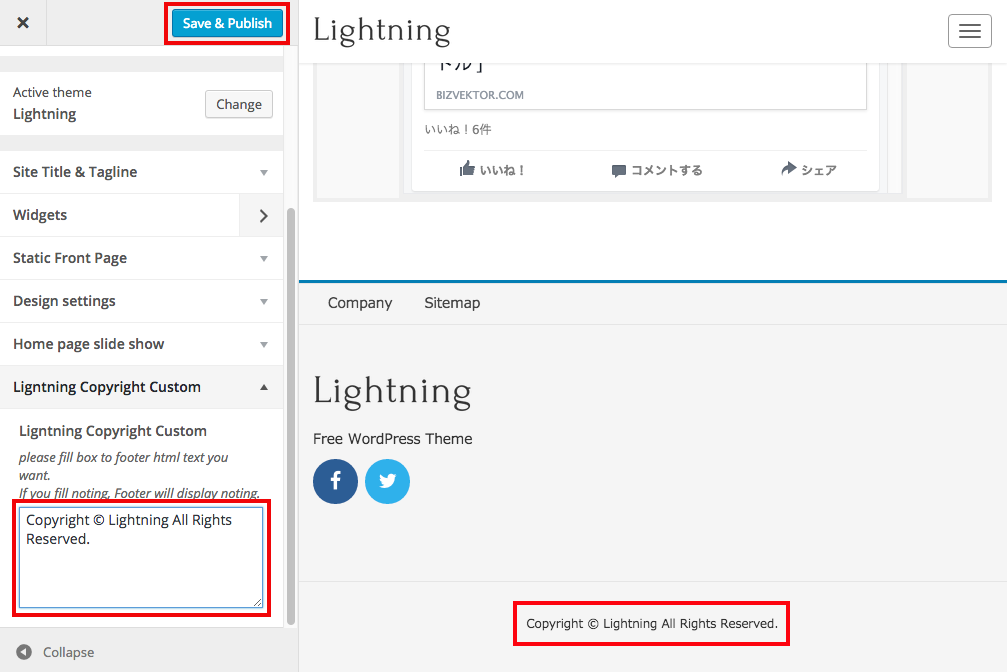 It is automatically saved when entered into the customizer screen.
However, if you can not be automatically saved, click on the top of the screen "Save & Publish" button.
Thus, the change of the copyright text in the footer is complete.